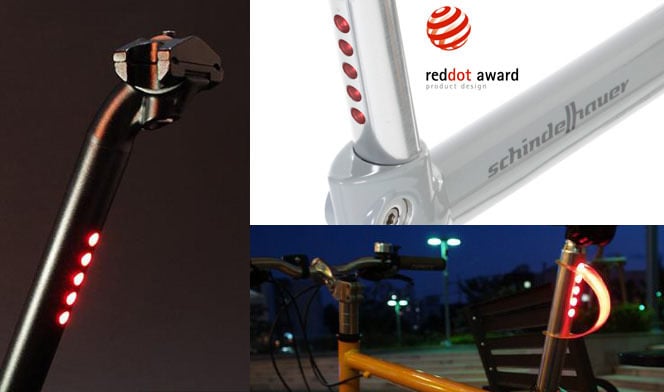 LightSkin seat post with LED rear light Φ31.6mm black
$

69.00
---
---
Built-in Bicycle Tail Light - LightSkin
LightSKIN integrated LED lenses and buttons into one assembly, so that it can be easily embedded in the seatpost. This unique technique, which was employed to firmly fix the LED circuit inside the seatpost, enables a simple design, as well as ensures the maximum performance for the strength and function of the seatpost.
Compared to existing tail lights that are attached externally, LightSKIN has numerous advantages. First of all, without protruding parts, it has little risk of being damaged. Additionally, whereas the existing tail lights are susceptible to theft because they are easily spotted, LightSKIN enjoys a low possibility of being stolen. Adoption of the LED circuit self-invented in South Korea and use of AA batteries further guarantee superior performance. Because of the silicon water-proof pad and patent-pending, unique internal structure, the resistance to damage by water is excellent. Also, LightSKIN's simple design doesn't protrude externally, harmonizing with the overall design of a bicycle and providing the utmost satisfaction with the design.
In 2010, LightSKIN received the "Reddot" award, which is a main prize under the reddot award product category and is recognized as the world's most prestigious prize in the design field.
This listing is for:
LightSkin seat post with LED rear light Φ31.6mm black
Features of LightSKIN:
LED - Five high brightness LEDs
Durability -
(Minimum) 50 hours
The entire ON mode ( 5LED mode No. 5)
(Maximum) 400 hours
The minimum power mode (3LED mode No. 2)
Batteries -
Two Alkaline AA batteries
Waterproof -
Waterproof for everyday life 
Operation Modes -
Ten modes
Five modes (5LED) plus Five modes (3LED)
Weight -
Approximately 36 grams
LightSKIN's weight without batteries